Aluminium Doors For Uttlesford Homes
Transform the look and performance of your property in Uttlesford with our quality collections of aluminium doors. Our selection includes secure front aluminium doors, elegant patio aluminium doors for elevated outdoor living, as well as space-saving bifolds for removing obstructions. With our customisation options you have the perfect blend of modern style and practical convenience. We understand that choosing the right look for your home is a vital decision. To make this process easier we supply a variety of colour choices, including our popular woodgrain foil which resembles the appearance of timber with the convenience of easy-care maintenance. Our aluminium doors are specially made in a modern factory to the highest standards and our strict quality checks ensure that your home need goes off without a hitch. By investing in our product you can ensure that your home improvements are on point. Our experienced professionals are here to help guide you through your project from start to finish providing advice and assistance along the way. Contact us today to find out more about our customisable solutions and begin creating the perfect home.
---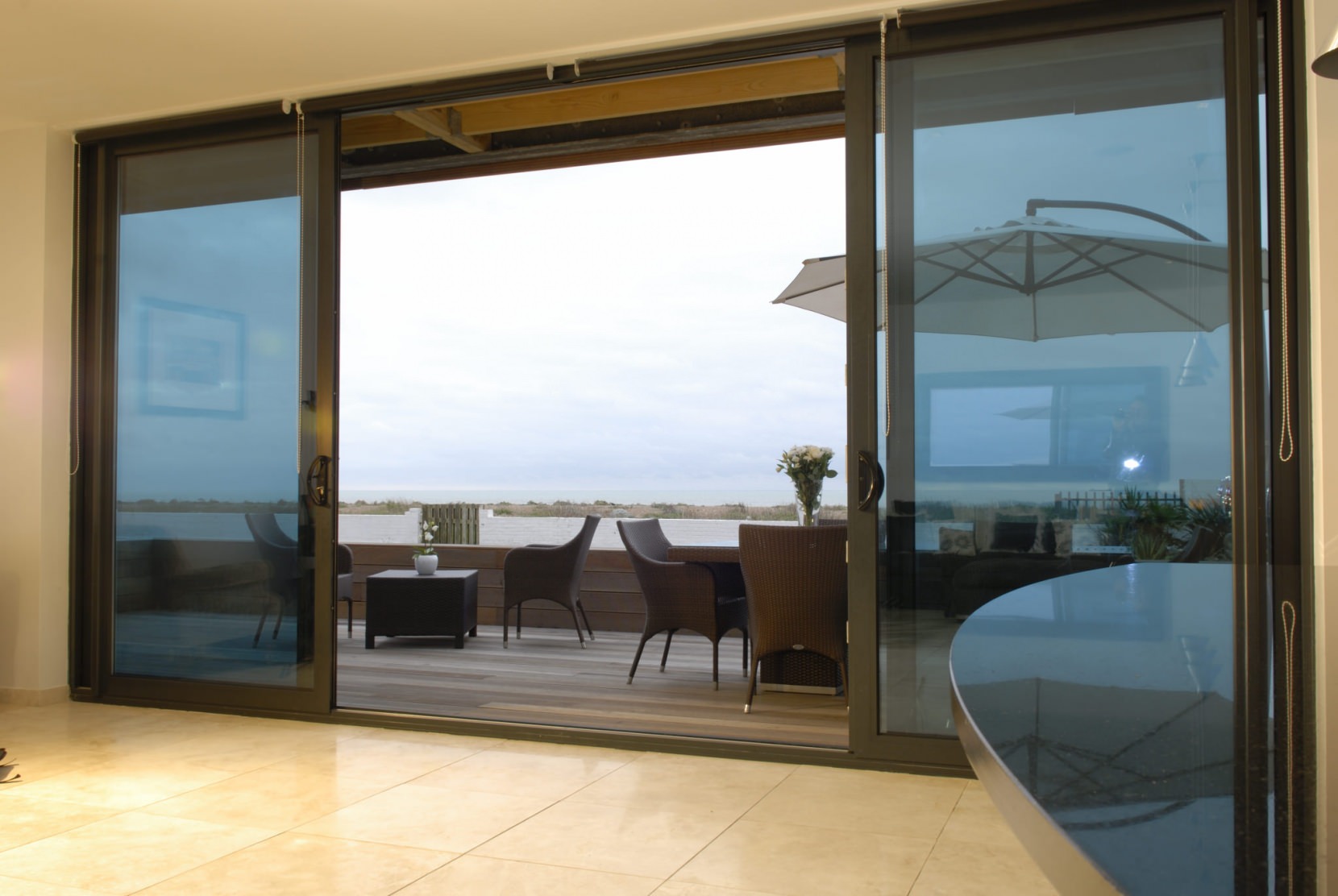 ---
Keep Your Energy Bills Low
Our aluminium doors have been designed specifically for the properties in Uttlesford to provide extra thermal insulation and efficiency. The aluminium doors are fitted with double glazing as standard, which helps to keep the warmth inside your home and the cold out. The double glazing acts as an extra layer of insulation that could reduce your energy bills as you won't have to use your central heating as much to keep your home toasty. The aluminium profile of the aluminium door adds further efficiencies and cost savings, making it more energy efficient, cost effective, and environmentally sustainable.
Secure Your Home
At Uttlesford Windows, we use aluminium to manufacture our range of aluminium doors. Our aluminium doors are designed with strength and durability in mind, making them ideal for protecting you and your family. For extra security, our aluminium doors come with impact-resistant design as standard, and the option of triple glazing is available for further protection. In addition, a multi-point locking system comes as standard with all of our aluminium doors, which means it is secured in multiple positions and would be virtually impossible for an intruder to get into your property. Our commitment to you is that your home is safe, secure and provides peace of mind to you and your family.
---
---
Visually Appealing Installation
At our Uttlesford showroom, we have a selection of aluminium doors that comprise the perfect mix of form and function. Our range is modern and minimalistic, featuring thin frames and generous glazed areas, that allow for plenty of natural light to enter the home. The aluminium materials we use have the capacity to mould to an array of designs, so you can choose between a traditional and contemporary look. Despite its flexibility, aluminium is sturdy and features impressive thermal efficiency, offering an excellent blend of security and energy savings. We pledge that our aluminium doors will be sure to become a stylish and lasting addition to your house, so feel free to come and inspect them at our Uttlesford showroom.
Long Lasting Aluminium Doors
When selecting aluminium doors for properties in Uttlesford, it is important to choose a product that is built to last and have a frame that is crafted from resilient, corrosion-resistant materials like marine-grade aluminium. This type of aluminium is designed to endure against various weather conditions such as rain, snow, and saltwater. Make sure the aluminium door frame is fitted with double glazing on each side for additional insulation and soundproofing. To further strengthen the aluminium door, make sure the frame is fitted with a multi-point locking system to make sure the aluminium door is safe from theft or illegal entry. aluminium doors are a great choice for those living in Uttlesford as they are energy efficient, which can help to reduce energy costs. Fitting these aluminium doors also reduces the amount of maintenance required as it is a low-maintenance product, highly durable and sturdy, and modern design for contemporary home finishes. Moreover, these aluminium doors can increase the worth of a property as they are long-lasting and require minimal maintenance.
---
---
Aluminium Door Prices Uttlesford
Once you have decided upon the style and dimensions that work best for your Uttlesford property, you can place an order with us. From our selection of aluminium doors, all of which come complete with a 10-year guarantee, we are sure that you will find the perfect option to suit your requirements. Upon acceptance of your order, our customer service team will be in contact to arrange a convenient date for our installation team to visit your home. Our installation process is highly efficient, and our team will aim to complete the install in the most convenient timescale. When completed, any debris left behind will be removed, and our team will check to make sure that the aluminium doors are in full working order. Once confirmed, you will be able to enjoy the benefits of your newly-installed aluminium doors.