Bi-Fold Doors – The Perfect Complement for Epping Properties
A&A Windows are a market-leading supplier and installer of the latest double glazing products, and we offer amazing bi-fold doors to customers throughout Epping, Essex and the surrounding areas. As a family-run business, we understand the importance of locating incredibly durable products at fantastic prices, and we want to bring our simple and efficient service right to you. Get in touch with our specialists today and we'll help you to find the product that's right for you.
We're proud of the quality of our bi-fold doors and other double glazing products, and this can be seen through our fantastic membership with Checkatrade. This membership is a testament to the level of service we are able to provide, and our brilliant service has led to our well-earned reputation as a local leader within the industry. We think it important to be honest with our customers, and we're more than happy to provide you with testimonials from our many happy customers.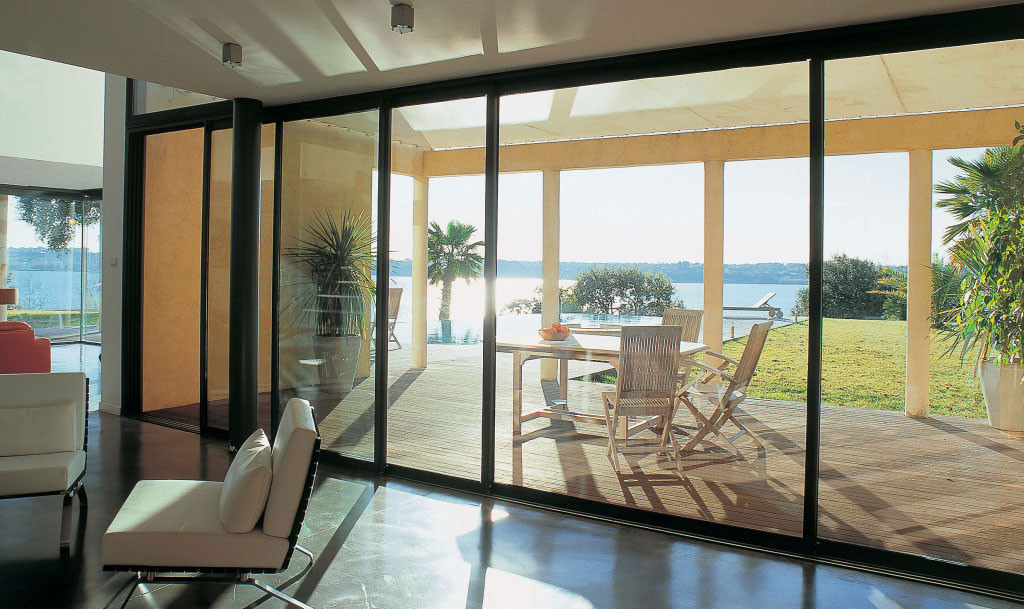 Maximum Security Bi-Fold Doors from A&A Windows
No matter whether you select uPVC or aluminium as the base for the profile of your new bi-fold doors, you'll be purchasing a double glazing product that is built with security and longevity in mind. We utilise the very latest in manufacturing and engineering in order to reinforce the innate structural strengths of these incredible materials, and top this off with incredible weather-proof finishes that are designed to maintain the quality of your product against all weathers.
Within the bi-fold doors frame itself we imbue high security hook bolt locks and one piece keeps. We also include shootbolt locking mechanisms on floating mullions in the product, and introduce magnetic door clips for added security. High quality EDPM rubber gaskets and weather brushes will further aid weather proofing 28mm double glazed units, and are available with integral blinds giving a U'value of 1.8 W/m2K. All of this serves to craft a market-leading product that will protect your home.
Incredible Thermal Efficiency with A&A Bi-Fold Doors
We also understand that thermal efficiency is a key factor in modern double glazing, and our bi-fold doors offer fantastic levels of energy conservation by trapping heat within your home behind intricate vacuum sealing technology. Our polyamide thermal barrier will then further help to reduce heat loss and improve thermal performance, and for the properly energy conscious we offer 36mm triple glazed units, easily capable of giving an overall frame U'value of 1.4 W/m2K.
All of this serves to meet and surpass existing Building Regulations, and the benefits of having an eco-friendly property are numerous. Despite the obvious benefit to the environment by reducing your reliance on central heating, this will subsequently mean lower energy bills for yourself. This means that your new bi-fold doors will continue to benefit you long after your product has been installed and our team vacated the premises, allowing you to spend your money elsewhere.
Professional Bi-Fold Doors Installation in Epping Homes
Every one of our bi-fold doors is installed by an experienced team of professionals, well versed in their craft. Each member has earned a number of relevant qualifications from accredited institutions, properly showcasing their vast knowledge of the home improvement industry. Similarly our teams also work with a history of hands-on experience, allowing them to combine mental knowledge with physical skill. Our teams are right for your home improvement project.
This dedication to quality is one of the reasons that we are recognised throughout Epping, Essex and beyond for outstanding bi-fold doors. We will care for your home as if it were our own during construction, and will protect all relevant apparatus and furniture with dustsheets, moving delicate products out of harm's way if need be. All of this is due to our strict adherence to the Glass and Glazing Federation's Code of Practice, a testament to our devotion to quality service.
Bi-Fold Doors Prices, Epping
If you're looking for an amazing set of bi-fold doors that will expand upon the personality of your Epping home, then get in contact with A&A Windows today. We'd be happy to answer any questions you may have about our products and services, so give us a call on 01279 30 40 30.
On the other hand, you are more than welcome to contact us by filling out our handy online contact form. A member of our team will get back to you swiftly to answer your home improvement query. Finally, you can also try out our free online design tool for a bespoke bi-fold doors quote!