Aluminium Doors Stevenage – Versatile Choices for You
We have a wide range of aluminium door styles available. Understanding that every Stevenage home is different, we have a selection designed to cater to every customer. Whether you are looking for a front door, patio door or bifold door, we'll have exactly what you need. With such a wide range to choose from, you'll have complete freedom of choice. Don't compromise on your vision; choose A&A Windows.
While we offer a range of styles across our aluminium doors, we also have customisation options. With these additional options, you'll be able to add some unique touches to your Stevenage home. While commonly used in modern style properties, our double glazed doors can suit traditional homes too. A range of colour and woodgrain foil options will help to tailor these doors to you.
Our staff are expertly trained across all of our aluminium door products. If you have any questions, feel free to get in touch with our expert team online or over the phone today. They'll be more than happy to help you regardless of the advice that you need.
---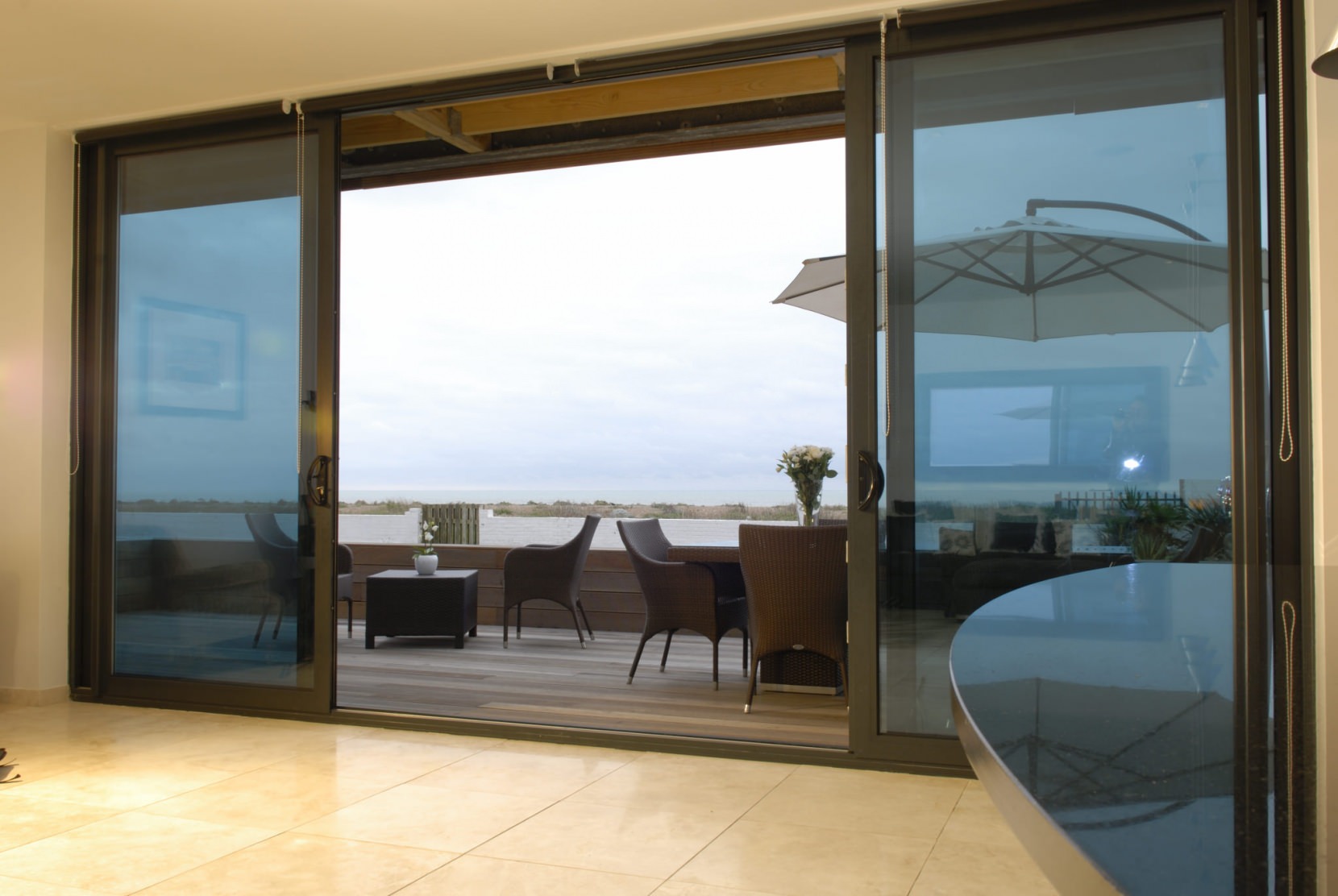 ---
Keep Your Energy Bills Low
Historically, aluminium doors had a reputation for a lack of thermal efficiency. This is no longer the case. Our double glazed doors use modern manufacturing processes combined with high grade materials to produce great thermal retention. These cleverly designed systems will actually help to trap heat within your property. This can be a lifesaver if you're used to a chilly Stevenage home in winter.
Being more thermally efficient, your aluminium doors will help to trap heat inside the home for longer. This being the case, you could find yourself relying less on central heating in summer. This is a massive benefit to homeowners as less central heating will result in lower energy bills. If you want a home that is consistently cosy throughout the year and more cost effective, choose our doors.
Secure Aluminium Doors for Your Stevenage Home
As a base material, few offer the same level of strength as aluminium. Naturally strong, they come with a great amount of impact resistance as standard. This will help to make sure your home is adequately protected against any potential intruders. With our double and triple glazing options, you'll also have extra layers of protection. Enjoy total peace of mind inside your Stevenage home.
The security of our aluminium doors doesn't stop there either! Ensuring we keep your Stevenage property safe and protected, all of our double glazed doors come with multi point locking. Secured at multiple positions along the profile, this will ensure a great level of safety. There won't be any weak points along the frame for potential intruders to exploit. Enjoy total security with our doors.
---
---
Stunning Aesthetics for Your Home
Want to update your home with a more modern look? If that's the case, aluminium doors could be the perfect addition to your Stevenage property. With slimline framing and a focus on the glass portion, they offer a minimalist, modern design. These stunning double glazed doors are sure to wow any guests that enter your home. Make a great first impression with the right home improvements.
Having such minimal sightlines, our aluminium doors can allow fantastic levels of natural light into the home. This is a great benefit to homeowners. With more natural light, you'll highlight your property's unique aesthetics, bringing the most out of your design. It also gives you ample light to use any space as a home office. Make the most of your home with aluminium double glazing today.
Hassle Free, Long Lasting Aluminium Doors
If you're used to timber windows and doors, switching to aluminium could save you a lot of hassle. Unlike antiquated materials, aluminium doors are easy to maintain. They don't require varnishing to stay performing and looking their best. In fact, as little as the occasional wipe of the cloth is all it takes! They'll continue to provide your home with a modern, stylish look for decades to come.
For home improvements that will stand the test of time, choose aluminium doors. They have a longevity that will span decades, eliminating the need for replacement or repair. Therefore, our aluminium double glazed doors will also be a very cost effective solution for homeowners.
---
---
Aluminium Door Prices Stevenage
If you think our aluminium doors would be the perfect addition to your Stevenage home, you can start a quote today. This will give you a price in no time at all!
Also, feel free to get in touch with our expert staff to answer any questions you may have. You can contact us either online or over the phone!