UltraSky Lantern Roof Light
At A&A Windows, we are proud to install UltraSky Roof Lanterns for homeowners across Bishops Stortford. UltraSky roof lanterns are an ideal solution for customers looking to brighten up their home and enjoy outstanding modern performance values. Our team of experts can seamlessly install roof lanterns onto any home extension, orangery or existing flat roof. Homeowners will instantly enjoy a brighter home, with the illusion of far more space for the whole family to enjoy.
Bespoke Roof Lanterns for Your Home
At A&A Windows, our customers always come first. We understand how important it is for your style to be reflected in the home improvements that you make, that's why we offer fully bespoke double glazed roof lanterns. Our team of experts will work with you throughout your project to ensure that your new roof lanterns perfectly complement your taste and the existing architecture of your home.
Whether you are looking to transform your living room, dining room, kitchen, bedroom or bathroom, the Ultraframe roof lantern presents the perfect stylish solution. This slimline solution is lightweight, without the need for a thick framework, you'll benefit from plenty of natural sunlight and stunning aesthetics.
The UltraSky lantern roof is available in a variety of bespoke sizes which range from 1m X 1.5m to 2m x 4m. This means that regardless of your requirements, our team will be able to offer and install the perfect roof lanterns for your Bishops Stortford home.

Colour & Glass Options
For the Bishops Stortford homeowner, we offer the stylish White uPVC option so you can match any modern window frames for a sophisticated look. For those looking for the for a unique twist, we also offer the aluminium option which is available in White, Anthracite Grey and Satin Black to either match or contrast the external finishes. Internally, the lantern roof is clad in either White uPVC, Anthracite Grey or Satin Black, this means homeowners will enjoy a sleek finish on their new double glazing product.
Customers will benefit from a more energy-efficient home with our range of impressive, thermally efficient glazing options which work to reduce heat loss within the home as well as reduce noise pollution.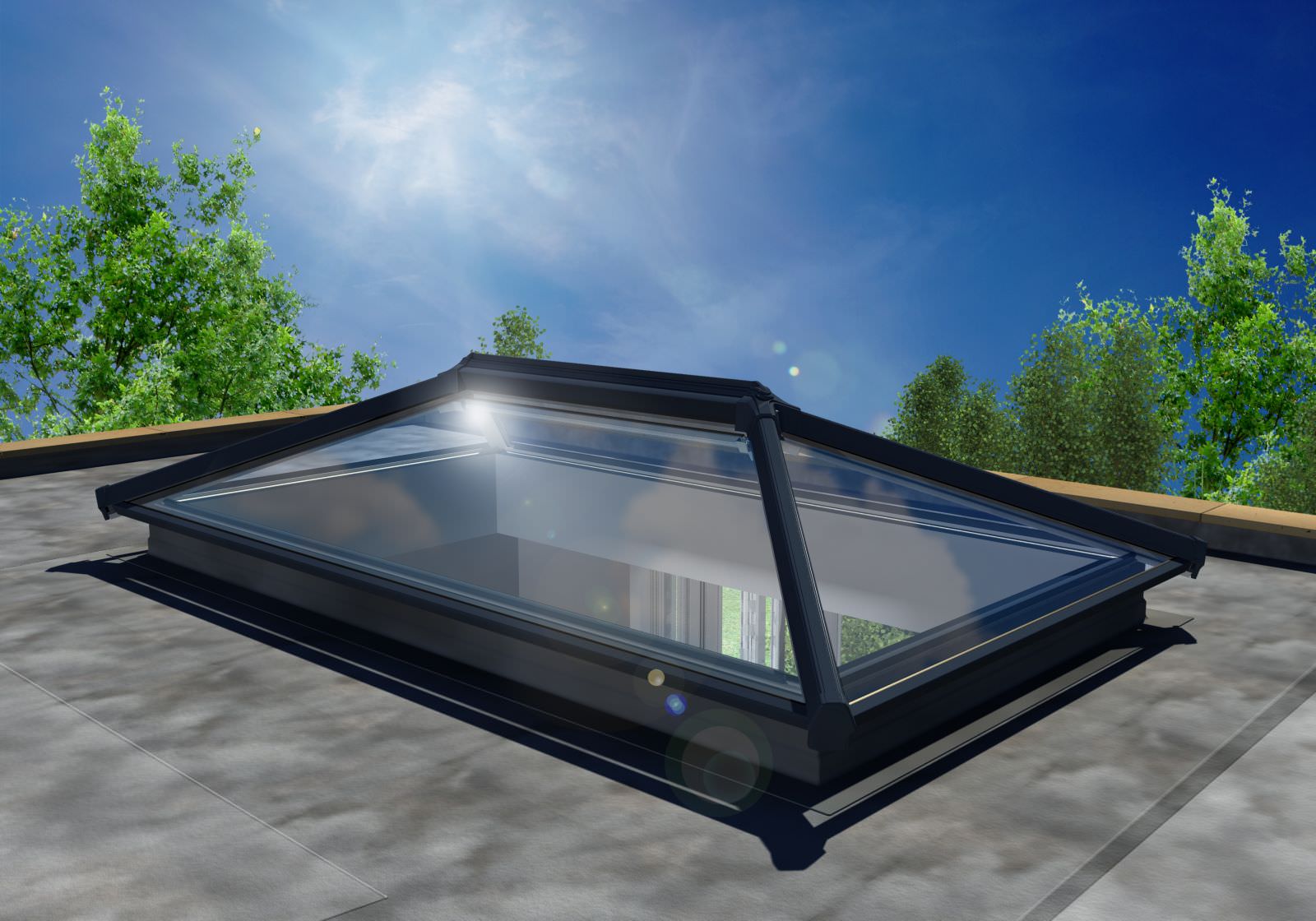 Weather Protection
At Homeglaze, we manufacture our roof lanterns using only the highest quality materials. This not only guarantees longevity for our customers but also means that by installing one of our roof lanterns, your home will be protected against even the most troublesome weather conditions.
All of our roof lanterns are manufacture as standard with outstanding weather seals to ensure that problems such as draughts and cold spots are a problem of the past. Water ingress will never affect the comfort of your Bishops Stortford home, keeping you comfortable year-round.
We offer roof vents as an optional extra for those who wish to improve ventilation. These roof vents are available with either a manual opener, automatic opener or an automatic opener with both rain and temperature control.
Security and Privacy
Homeowners in Bishops Stortford will enjoy more natural light, without having to compromise on privacy or security. Due to the positional nature of our roof lanterns, homeowners will benefit from a brighter home without having to be concerned with nosy neighbours.
All of our roof lanterns are stringently tested prior to installation to ensure that they surpass industry standards of security. The safety of your family and home will always be a priority when it comes to making any home improvement, with our roof lanterns that is no different. Fitted as standard with our stress and impact resistant double glazing, your new profile will keep your Bishops Stortford home as safe as possible.
Prices for Roof Lanterns in Bishops Stortford
Take the first step towards your Bishops Stortford home improvement and contact us today to discuss an installation.
Alternatively, homeowners can get an instant Roof Lanterns quote online by using our free quoting engine. Receive a bespoke price in just minutes and see how much our stunning, high-performance Roof Lanterns will cost with full installation.