Industry-Leading Tiled Conservatory Roofs
Our tiled conservatory roofs are the perfect solution for Bishop's Stortford homeowners looking to upgrade their home extensions. If your conservatory is underperforming and beginning to look tired, why not consider one of our replacement tiled conservatory roofs from our conservatory roof range. We utilise a market-leading design to ensure unbeatable standards of performance and comfort.
At A&A we work closely with manufacturers Ultraframe to offer the Ultraroof system. This tiled conservatory roof system not only looks outstanding, but it also provides incredible thermal performance. The Ultraroof is the lightest and strongest tiled conservatory roof on the market and can act perfectly as a replacement roof.
Whether you need a replacement tiled conservatory roof, or you are embarking on your first home extension, our Ultraroof tiled conservatory roofs will offer you more space that is bright, warm and comfortable.
Sleek Aesthetic
We want our customers' style to be reflected in our work, that is why we have created sleek, contemporary tiled conservatory roofs that seamlessly complement every style of property. Combing both function and style, every component of our tiled conservatory roofs have been manufactured in compliance with modern standards.
Energy Efficient Profiles
The tiled conservatory roofs that we install at A&A Windows surpass all other tiled roofs in the current market. Our profiles feature an intelligent design that effectively traps pockets of warm air. This will ensure that homeowners can enjoy a comfortable conservatory that can be used year-round.
Often, customers are worried that installing a conservatory will mean it feeling like a greenhouse in the warmer summer months. With one of our tiled conservatory roofs, homeowners can bypass the 'greenhouse effect' and enjoy effective thermal regulation.
Versatile Design
Our expert team can install our tiled conservatory roofs to a wide range of conservatory styles and property types. This makes your home improvement far easier and will result in you enjoying all the benefits of a brand-new tiled conservatory roof. The design of our tiled roofs can effectively complement both modern and traditional homes. At A&A Windows we strive to make things as easy as possible for our customers.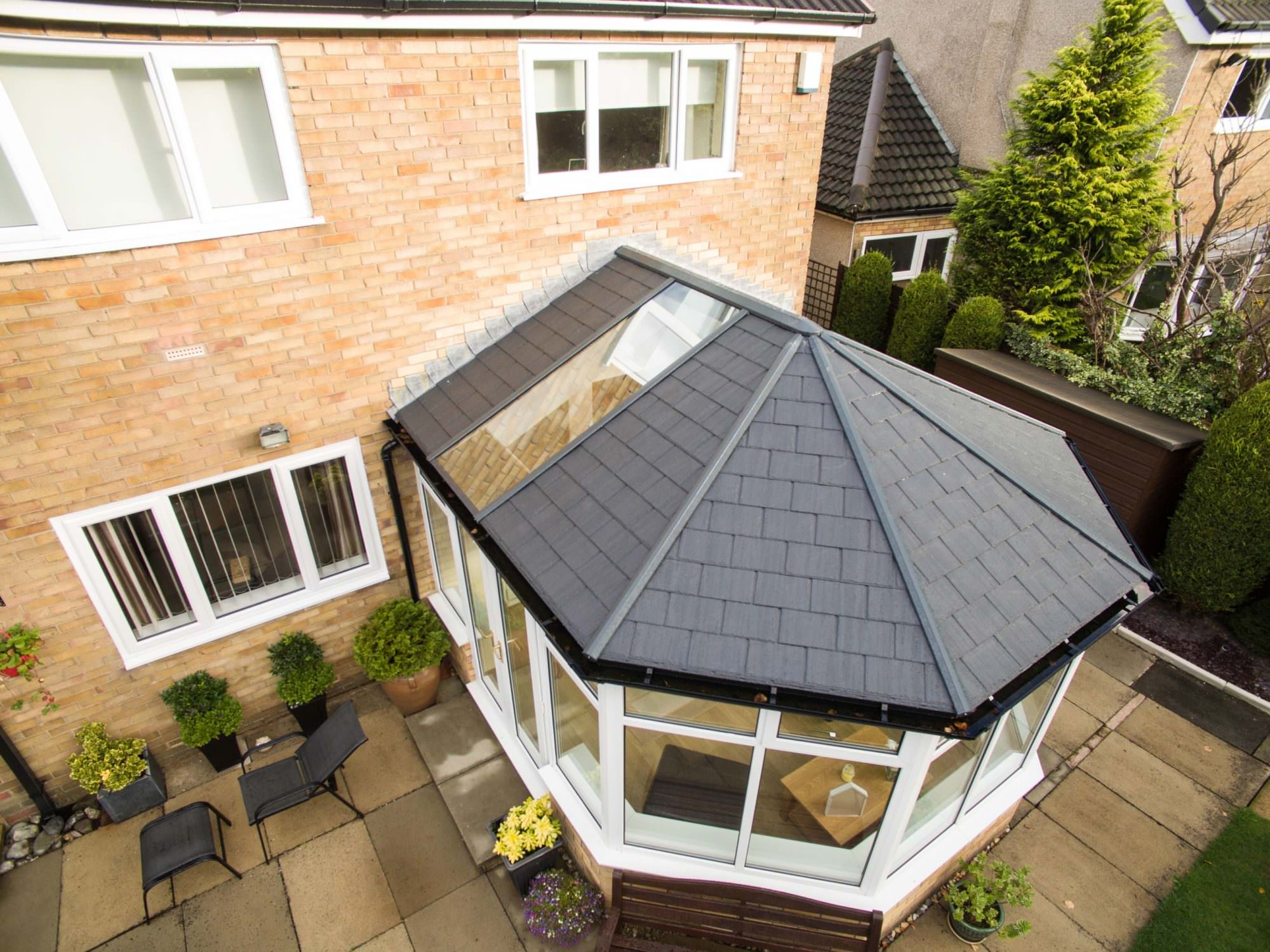 Unique Accessories
A&A Windows can tailor your new tiled conservatory roof to match your style, including a range of tile colours that can be easily applied during the design process. Choose from 'Carbon Grey', 'Harvest Brown' and 'Terra Brick' to perfectly match your home. Bishops Stortford customers can also opt for either 'White', 'Black', 'Rosewood', 'Oak' external fascia boards. We can also offer a full range of interior design options for customers looking to customise their new tiled conservatory roof. This includes inserting spotlights or speakers into the internal pelmet. The option for downlights or mood lighting is also available.
Highly Durable & Weatherproof
Tiled conservatory roofs from A&A Windows have been specifically designed to withstand even the most troublesome of British weather. Featuring high-performance weather seals to ensure your conservatory doesn't suffer from draughts or water ingress. This means that your new tiled conservatory roof will achieve exceptional standards of thermal efficiency, there's no reason to settle for less.
Our tiled conservatory roofs are manufactured fully compliant with current Building Regulations. Compromising of industry-leading materials that offer exceptional life span, our profiles will not rot, warp or become discoloured over time.
Trusted Installer
Our team of experienced installers have accrued a wealth of experience over the years, allowing them to offer a standard of conservatory roof installation that is completely unsurpassed. We'll ensure your new roof is installed quickly and efficiently.
We always operate to a professional, courteous and respectable standard. We are proud to offer a standard of customer service that is sure to satisfy. Not only do our team offer a stress-free service, but they also offer a fit that guarantees your roof performs the way that it should.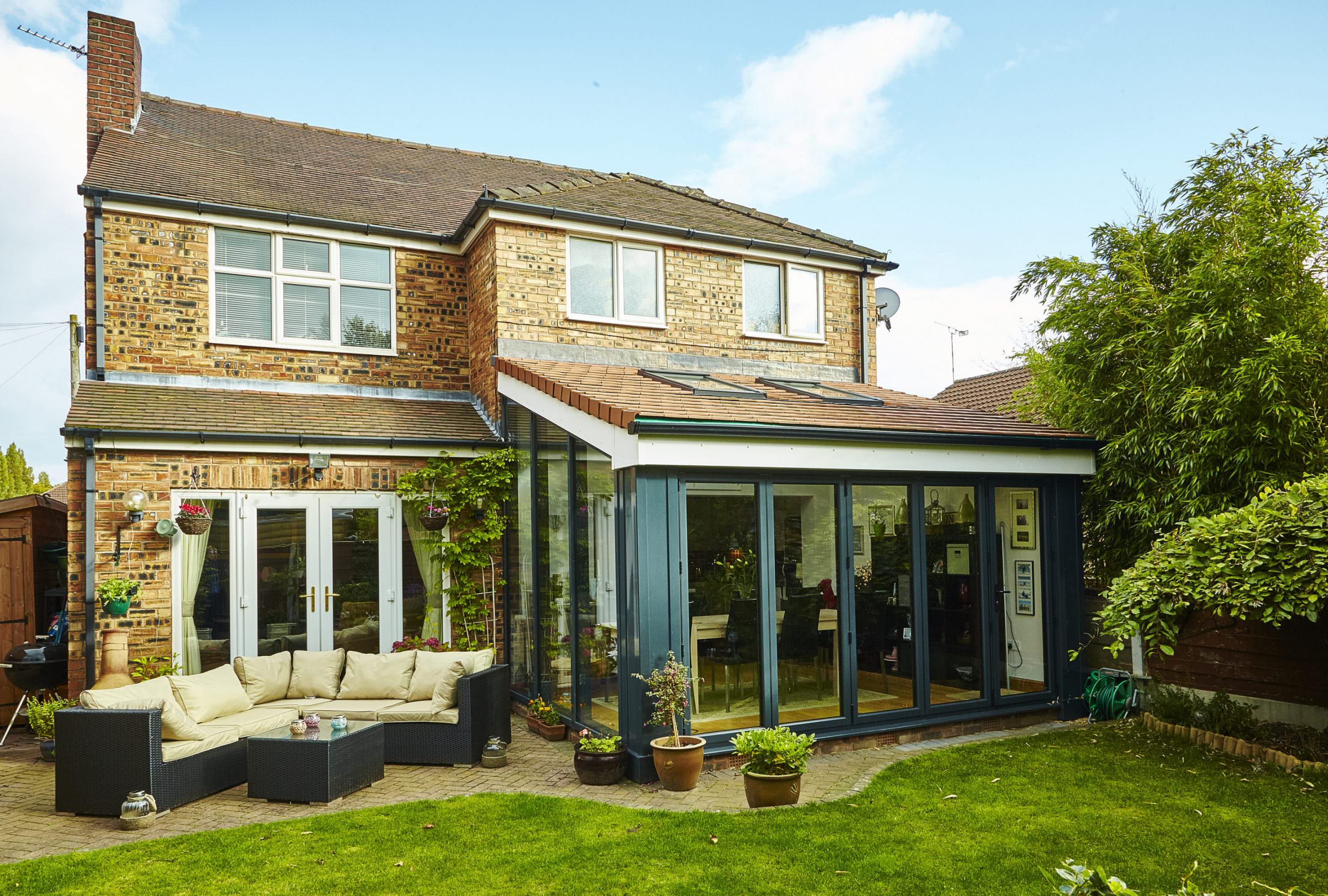 Ultraroof All Tile
We also install the Ultraroof All Tile, an innovative tiled conservatory roof system that can extend your living space and give you a room you can use all year. Similar to Ultraroof, it creates a stunning, spacious vaulted ceiling on the inside with the freedom to match the existing roof finish on the outside with real tiles or slates.
Using the best of British design and engineering, this product will complement your home perfectly, and provide superior insulating performance to that of a traditionally built roof. The Ultraroof All Tile provides the homeowner with flexibility and can be supported by stone or brick piers, super-insulated columns or aluminium posts.
Prices for Tiled Conservatory Roofs in Bishops Stortford
If you are interested in improving your Bishops Stortford property with a Tiled Conservatory Roof from A&A Windows get in touch with our expert team today on 01279 30 40 30. Alternatively, you can fill out our online contact form.
If you know which one of our Tiled Conservatory Roofs you would like to have installed in your Bishops Stortford home, you can use our online quote tool to get a free no-obligation estimation.
Or why not book a visit to our local showroom. Call us today to book your visit.