Front Doors Designed to Complement Your Home
You want your new front doors to enhance the look of your home in Bishops Stortford. A&A Windows will be able to introduce you to a portfolio of front doors that are suitable for any type of property – whether it's modern or of heritage build.
You may want to customise your new entrance doors to achieve a specific look. To enhance your double glazing, you'll be able to select from a wide range of colours and finishes that will ensure your front doors tie-in with the themes and schemes of your home.
New uPVC and composite entrance doors installed by A&A Windows will help your home to stand out and make a great first impression when people come to visit. Contact us today for further information or use our free design tool to gather some guideline front doors prices.
---
Keep Your Home in Bishops Stortford Safe and Secure
Our front doors add more than aesthetic value. Each profile incorporates tried-and-tested industry technology designed to keep intruders outside. You'll be able to protect your home in Bishops Stortford from most unauthorised attempts to gain access when you choose A&A Windows to install your new front doors.
The entrance doors we install for our customers in the Bishops Stortford area are also extremely strong. Built to withstand violent impacts – whether the environment or people cause them – they'll help keep your home safe. Why not contact us for more information by sending us a message or by calling 01279 30 40 30!

---
Our Entrance Doors are Long Lasting and Won't Let You Down
Poorly installed entrance doors – or low-quality double glazing products – will need to be replaced with a high-performing alternative. Fortunately, our range of market-leading front doors will meet the high standards of quality you deserve, which means you won't need to worry about replacing them for a long time.
Why do our entrance doors last for such a long time? They won't corrode or warp in reaction to harsh environmental conditions. They will also be made-to-measure and flawlessly installed, so your home in Bishops Stortford will benefit from double glazing that's a long-term investment and won't let you down.
Stay Warm and Save Money with Our Stunning Front Doors
If your existing entrance doors are making your home in Bishops Stortford uncomfortable and expensive to heat, you'll be keen to replace them. A&A Windows will be able to help you by introducing you to a range of front doors engineered with thermal efficiency in mind.
The thermal breaks in the profiles of the front doors we install for customers throughout the Bishops Stortford area will prevent warm air from escaping outside, so you will be able to relax in complete comfort – no matter what the unpredictable British weather is doing.
Because your new entrance doors will reduce your reliance on your thermostat, you'll notice a reduction in your heating bills. Your home in Bishop's Stortford will also benefit from a much-reduced carbon footprint, so you'll be making an environmental impact at the same time.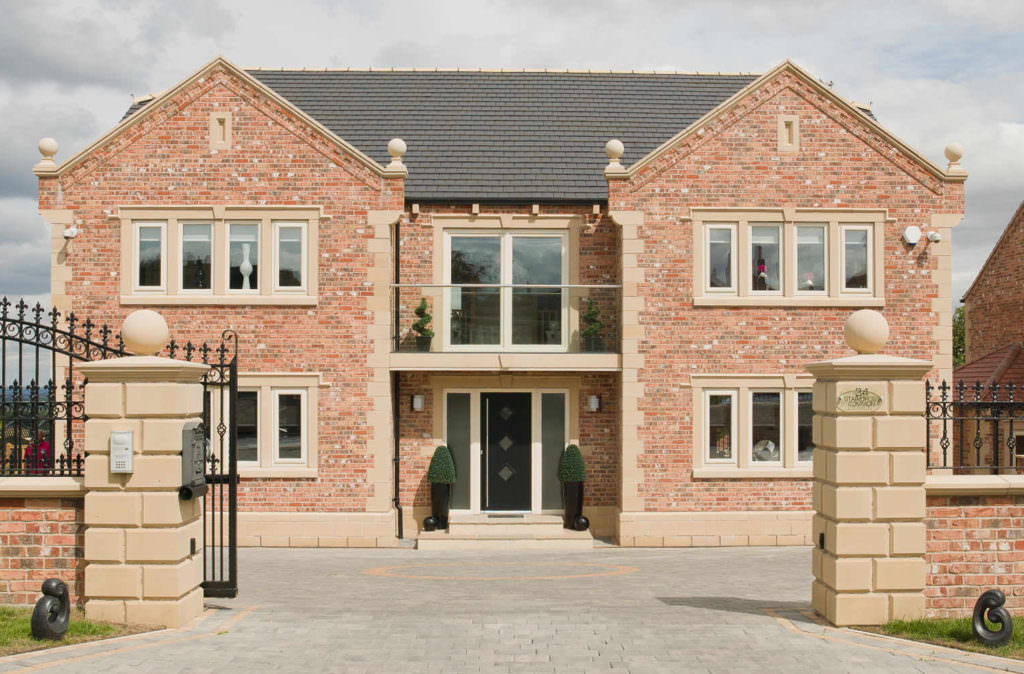 ---
Front Doors Prices, Bishops Stortford
A&A Windows has extensive experience of helping customers throughout Bishops Stortford with their home improvement requirements. We will be able to use our knowledge to respond to the demands of your project – no matter what its scale or how complex it might be.
We can also help you with more than just new front doors. If you are about to refurbish your home, ask about our windows, conservatories and roofline products when you get in contact with our friendly team. We'll be able to advise you further and provide some free guideline prices to consider.
To get in touch with us, please call us directly on 01279 304030 or send us a free message. If you want free front doors prices for your home in Bishops Stortford, please visit our online design tool and answer a few questions – you can revisit the page as many times as you like to get costs.