Aluminium Bi-Fold Doors Essex
25th January 2017 Comments

Open Up Your Essex Property with Aluminium Bi-Fold Doors
Aluminium bi-fold doors are a superb Essex home improvement, as they truly open up your home to the outdoors. You can create one stunning living space that encompasses both the indoors and the outdoors, and transforms the way you enjoy your property.
Our aluminium bi-fold doors have been developed with the very latest innovations, making them high performance as well as stylish.
We offer a range of options so that you can create the perfect aesthetic for your home, perfectly adapted to meet your requirements.
A&A Windows are proud to offer exceptional aluminium bi-fold doors to our Essex customers as well as expert installation and great customer service. Take a look at our reviews to see what our customers think of our installations!
Our guide to aluminium bi-fold doors in Essex has been written to help you discover the benefits and features of these incredible home improvements and get inspiration for your property upgrade. Read on to find out more.
Stylish Home Improvements with Aluminium Bi-Fold Doors
Aluminium bi-fold doors are customised to be unique to your Essex home. Every detail is taken into consideration, from the fold configuration, which is designed to be the most functional opening for your property to the hardware and accessories.
For complete personalisation, we offer a fantastic range of colour finishes too. Whether you prefer bright shades that make your new sliding door an eye catching feature, or country pastels that add charm and elegance; even traditional colours and wood effects are available with our colour finishes.
No matter which colour you choose, our finishes come with a 25 year guarantee! You can be confident that your new door colour will not peel, powder, blister, corrode, fade or lose its sheen. Our guarantee is based on the assumption that the doors are cleaned and maintained in line with our guidelines. Back to back warranties apply to all other materials.
Weatherproof Your Home with Aluminium Bi-Fold Doors
We all know that the British weather is turbulent and our winter storms can be particularly violent. With aluminium bi-fold doors from A&A Windows, you will have no need to worry.
These doors are incredibly robust and will protect your Essex home from even gale force winds.
Every aluminium bi-fold door we install is fitted with outstanding EDPM rubber gaskets and weather brushes to maximise their weather proofing properties. There will be no leaks and no draughts when you choose our aluminium sliding doors for your Essex home.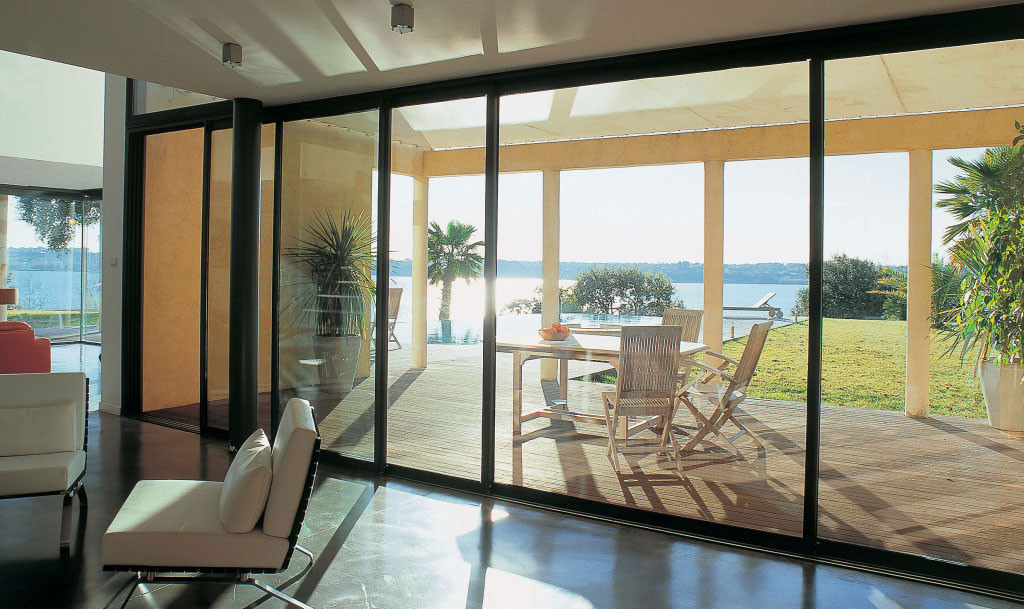 Keeping You Warm – Cutting Edge Aluminium Doors in Essex
It is often thought that aluminium creates cold double glazing that is inefficient and leaks heat.
Our cutting edge aluminium bi-fold doors will protect your home, keeping it warm on even the coldest of days.
These quality aluminium doors have a thermally broken profile, specifically designed to create a high performance thermal barrier. This ensures that heat loss is minimised and warmth is trapped within your property.
In fact, our aluminium sliding doors have such low U values, that they are capable of keeping your home warmer for longer. With no cold spots and limited heat loss, you will need to use less heating to keep your property at a comfortable temperature which will result in lowered energy costs.
Just one of the superb cost effective features that aluminium bi-fold doors provide for your Essex home.
Super Secure Aluminium Bi-Fold Doors in Essex
Protecting your home from would-be burglars is a priority, and with our super secure aluminium bi-fold doors, you can be confident that there is no easy entry.
Our sliding doors are constructed from high grade aluminium. The benefit of this is that aluminium is a naturally strong and sturdy material that is almost impossible to break. It is the best choice for inherently secure double glazing.
In addition to this, we fit our bi-folding doors with hook bolt locks and one piece keeps on the main opening sashes, as well as impressive shootbolt locking on the floating mullions. With such high security locking mechanisms, you can have peace of mind that your home and family are well protected.
Aluminium Bi-Fold Door Prices in Essex
All this superb quality and performance, yet our aluminium bi-fold door prices still offer Essex customers superb value for money. A&A Windows pride ourselves on competitive quotes, which is part of the reason we are such a popular double glazing installer.
If you're wondering how much our aluminium bi-fold doors cost, then feel free to use our clever door designing tool. Simply enter your choices from the options available, and our system will give you a tailored quote.
If you want more information on the folding doors, or on our lead times, please do not hesitate to contact us. Our highly trained team will be happy to help.