Double Glazing Harlow, Essex
12th December 2016 Comments

Double Glazing to Suit Your Harlow, Essex Home
Double glazing for your Harlow, Essex home comes in so many styles and designs, it can be hard to work our which option is the right one for you!
Here at A&A Windows, we want to help you find the perfect double glazing for your home. We offer an extensive range of windows and doors to meet your requirements, so that you have plenty of choice.
In addition to this, our double glazing is expertly installed and is of the very highest quality, so you get outstanding aesthetics and fantastic performance.
Read through our handy guide to double glazing in Essex and find the right double glazing for your home.
uPVC Windows and Doors
Let's start with uPVC windows and doors.
Double glazing is traditionally thought of as being constructed from uPVC, which is part of the reason our uPVC windows and doors are so popular in Essex. The main reason our double glazing is so sought after however, is that we work with Deceuninck to offer double glazing of the very highest standards.
Every uPVC window and door is tailored to your specifications, from colour to glazing to hardware, you get to choose each and every detail.
Our uPVC windows and doors are superbly energy efficient, and among the top rated double glazing in the UK for thermal performance.
When you opt for our uPVC windows and doors, you will find that your home is warmer for longer, even on the coldest days, and that you benefit from using less heating to maintain a comfortable temperature.
In addition to this, our Deceuninck double glazing is renowned for its security performance. These impressive uPVC windows and doors offer superb strength combined with a robust and durable double glazing installation. We also fit state of the art locking mechanisms to ensure that our double glazing fully protects your Essex home.
Our Deceuninck uPVC windows and doors are crafted to such exceptional standards, that you can count on them providing you with long term double glazing solutions. They even come with a 10 year manufacturer's guarantee to give you peace of mind.
To complete our uPVC range, we also offer Solidor composite doors, which meet our same high expectations and offer impressive all round performance standards. Composite doors are a great choice for insulation and security as well as a traditional timber aesthetic.
Take a look at our impressive double glazing!
Premium Double Glazing
We also offer two exceptional premium ranges of double glazing, to ensure that you get the very best options available for your Essex home.
StyleLine
StyleLine double glazing is a cut above standard uPVC windows and doors, as it is precision engineered using the latest innovations in the industry to be a combination of modern technology and art.
The StyleLine double glazing range is crafted using an innovative and exclusive process that creates the most streamlined and stylish appearance. It is finished with tasteful foils so that you get an authentic look too.
StyleLine windows and doors are brilliant when it comes to thermal performance as they are highly insulating. For security performance, they are completely unmatched by any other uPVC window or door due to their incredible strength that comes from the manufacturing process.
Find out more about StyleLine double glazing in Essex here.
Residence 9
Residence 9 double glazing is the ultimate choice for authenticity. Perfect for heritage homes and properties in conservation areas, the exquisite finish of Residence 9 windows and doors will benefit any Essex home.
This stunning double glazing range has a composite constriction, making it tough and durable, but also providing it with an authentic timber appearance that is so realistic, you would struggle to tell the difference between Residence 9 double glazing and wooden windows and doors.
The superb insulation offered by the composite design of this double glazing range makes them highly energy efficient, protecting your home from the cold outside.
In addition to this, they are incredibly strong and robust, and almost unbreakable, making these windows and doors virtually impossible to break into. As with all our double glazing, our Residence 9 windows and doors are fitted with state of the art locking mechanisms to enhance their security performance.
Take a look at our Residence 9 windows and doors to see their benefits and features in detail.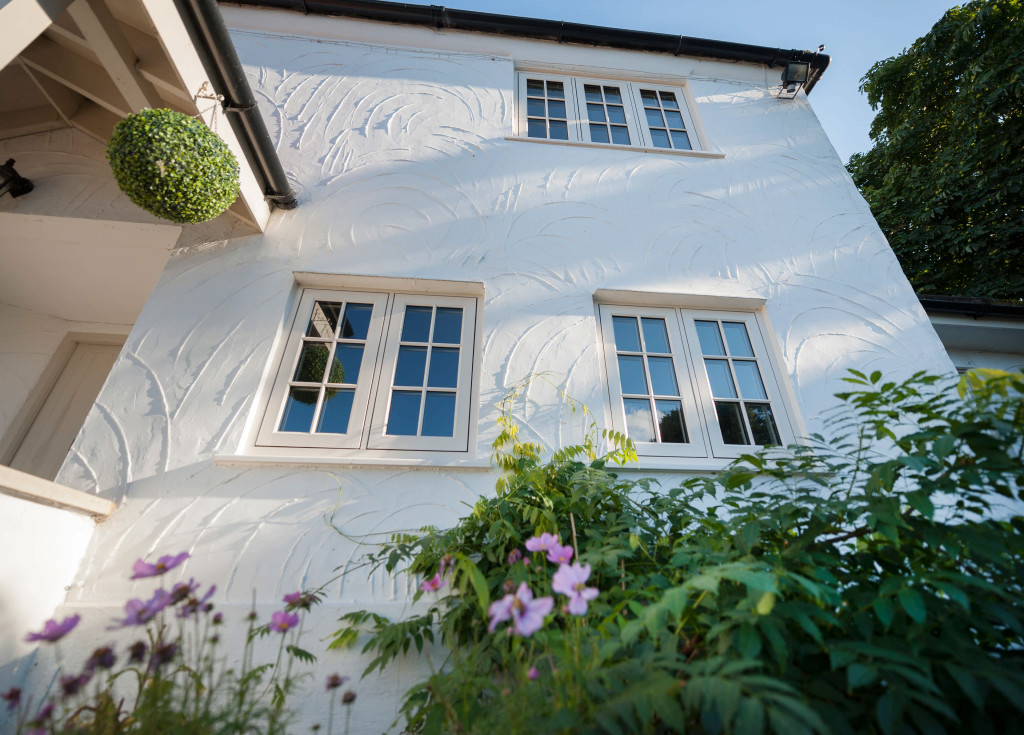 Ready for New Double Glazing in Essex?
We offer fantastic double glazing prices in Harlow, Essex, so you can get a competitive quote for your home improvements.
Either speak to our team or visit our online quoting engine for more information and your tailored double glazing quote.