uPVC Windows Basildon
1st June 2018 Comments

uPVC Windows Basildon
If you need new double glazing for your Basildon property, look no further than uPVC windows from A&A Windows. We have a broad range of styles, colours and finishes to suit any home. Whether your home is modern or traditional, we have a uPVC window to suit your style.
Our uPVC windows have been crafted by market-leading manufacturers to meet the highest standards of security, durability and thermal efficiency. They are also extremely low-maintenance and offer great curb appeal.
Go ahead and take a look at our range of uPVC windows in Basildon and their benefits and features in this excellent guide.
Thermally Efficient uPVC Windows in Basildon
Our uPVC windows are designed with energy efficiency in mind. Each window is fitted with thermal reinforcing as standard to ensure that cold air is kept outside and your home remains warm and comfortable.
These windows are also fitted with energy rated glass, which means that even your glazing is working towards making your home more energy efficient.
These uPVC windows also come with double weather seals as standard, to protect your home against the cold and the elements. No matter what the British winter throws at you, your Basildon home will remain warm and dry.
The benefit of a thermally efficient home is that you will need to use your central heating a lot less in the colder months. You will be able to maintain a comfortable temperature in your home, while saving money on your heating bills and reducing your carbon emissions. These uPVC windows are guaranteed to save you money in the long term.
uPVC Windows in Basildon To Keep Your Home Secure
Our uPVC windows are manufactured by Deceuninck, which means that they offer incredible performance across the board. One area in which Deceuninck particularly excels is security.
Deceuninck uPVC windows are internally reinforced, so they stand up incredibly well to physical attacks. Also, due to their internal reinforcements, there is no need for any additional steel reinforcements. These windows are inherently strong and designed to keep you safe from intruders.
Each of our uPVC windows features high security locking systems as standard, so you can be confident that our windows are suited to keeping you safe.
A Range of Styles and Designs to Suit Any Home
At A&A windows we pride ourselves on having a beautiful range of styles that will be right at home in any property. Innately customisable, we have a uPVC window to suit any taste and style.
We have a beautiful range of colour finishes and woodgrain foils as well as decorative glazing. This allows you to create a bespoke uPVC window created exactly to your tastes. We also offer a range of practical and decorative hardware options to add the finishing touches to your home.
Inspect our incredible range of uPVC windows in Basildon:
An extremely popular style of uPVC windows in Basildon, these windows have a timelessly sleek design that matches your home perfectly. Packed with thermal efficiency and security, they are the perfect all-rounder.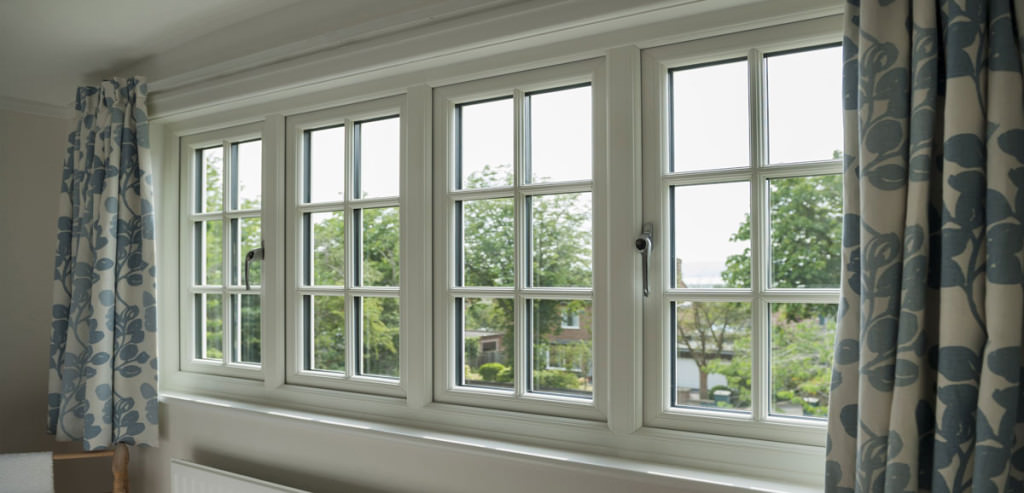 An immensely clever and stylish window that offers optimal ventilation and low maintenance. Vertical opening allows an incredible amount of ventilation, while the horizontal opening opens inwards allowing you to clean them without setting foot outside. This makes them a safe and practical option for upper storeys.

The perfect marriage of traditional design and modern performance, these uPVC windows are perfect for heritage properties. The timber windows they replace are often draughty and insecure, whereas these windows offer incredible security and unbeatable energy efficiency.
This style also effortlessly blends traditional design features with the benefits and features of modern uPVC. These windows are an ideal choice for period and heritage properties across Basildon.
uPVC Windows Basildon Prices
If you would like to receive a free online quote for our uPVC windows in Basildon, please use our online quoting engine. We will have a quote for you within minutes, tailored to your exact specifications, and carry an extremely competitive price.
If you have questions and would like to speak to a member of our skilled and experienced team, please don't hesitate to contact us. A&A Windows would love to help you with your home improvements. Our team will answer any questions you have, discuss our products and provide you with as much information as you may need.